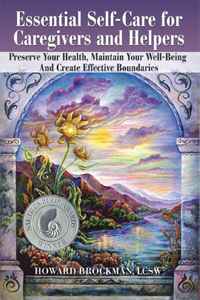 Title: Essential Self-Care for Caregivers and Helpers Preserve Your Health, Maintain Your Well-Being and Create Effective Boundaries
Author: Howard Brockman, LCSW
Paperback: 348 Pages
Publisher: Columbia Press LLC
| | | |
| --- | --- | --- |
| Paperback: Price: $17.00 | | |
| eBook: Price: $6.99 | | |
Sample the first two chapters of Howard Brockman's new book, Essential Self-Care for Caregivers. This is a FREE eBook you can download right now!
View/Download the Questionnaire
Reader benefits are the following:
Learn how to protect against energetic vampires.
Learn how to establish and maintain energetic boundaries with angry and needy people.
Determine if you are a High-Intensity Relater™ and what to do about it.
Discover how Bach Flower essences can support your energetic boundaries with challenging people.
Find out how your presence alone can be healing as you become the blessing.
Learn how the media can contribute to sabotage your own health and well-being.
Find out how unconscious empathy can cause adrenal exhaustion.
Learn how to work with your inner guides for guidance and healing.
Find out about "The Primary Directive" and why it is so essential for self-care
Learn how to protect yourself against psychotoxic contamination when assisting others
"Howard Brockman gives a great new spin to empowering the lives of caregivers. Working with energy psychology and core principles of consciousness, this book gives specific, useful examples of how to handle challenging situations and maintain your own healthy "home frequency." Brockman is a good writer, too! Easy to read and understand, with interesting case studies — this is a resource you'll want to keep near at hand."
Penney Peirce, author of Frequency and The Intuitive Way
"Essential Self-Care for Caregivers and Helpers will be just as helpful and relevant to the millions of baby boomers taking care of aging parents as to those in the helping professions.  Howard Brockman emphasizes what too many people know yet tend to overlook—while helping others, one must still practice excellent self-care in order to stay well.  He helps the reader understand vicarious trauma 
and how to distinguish its signs and symptoms from healthy stress. Helping doesn't have to be depleting or traumatizing as long as we understand how to create and maintain healthy boundaries. Brockman describes just how this is done. Congratulations for a job well done!"
Sharon Cass-Toole, PhD, Integrative Psychotherapist, Toronto, Canada
"Brockman's Essential Self-Care for Caregivers and Helpers brings a bold new perspective to the age-old challenge to caregivers—how to stay well while attending to the suffering of others. He carves out a wide arc as he describes the myriad influences that can cause caregivers and helpers to slide into burnout and absorb toxic energies from those they help. Considerations of one's basic temperament along with innovative self-care strategies make this a must read book for professionals and home-based helpers alike."
Dr. Fred Gallo, author of "Energy Psychology" and "Energy Tapping for Trauma"
"For 40 years I have insisted to my patients that their primary responsibility is to take care of themselves FIRST so that they can help others. Health care personnel are just as much in need of SELF-Care, as their primary responsibility.  Here is the foundation for all to heed!"
C. Norman Shealy, M.D., Ph.D.
President, Holos Institutes of Health
Professor Emeritus of Energy Medicine
President Emeritus
Holos University Graduate Seminary
www.normshealy.com
www.holosuniversity.org
"A wonderful book for anyone who cares for others.  I found the advice to be insightful, thoughtful, and compassionate.  Keeping oneself in good mental health is critical for our well-being and those we care for. I think this will become a critical resource for caregivers.  I highly recommend as a book you keep close to your heart."
Professor, University of Wisconsin School of Medicine and Public Health
Host of public radio's Zorba Paster On Your Health
"Howard Brockman has created 'the manual' for any professional or nonprofessional caregiver who serves with the intention of making a difference without losing him or herself in the process. This is a well written book that will help anyone become more conscious of their empathic practice, teach them how to skillfully balance it and at the same time, not be overwhelmed by their vocation. A must read!"
Dr. Joe Dispenza, bestselling author of Evolve Your Brain: The Science of Changing Your Mind as well as Breaking the Habit of Being Yourself: How to Lose Your Mind and Create a New One.
"Howard Brockman provides an insightful, broad-ranging, sophisticated look at the way subtle energy affects the caregiving process and the well-being of the caregiver. This book offers spiritually and energetically cogent ways to promote corrective self-care in the midst of high-intensity giving, both the professional and personal kind. This is a strong mix of the theoretical and the practical."
Belleruth Naparstek LISW, Author of Invisible Heroes: Survivors of Trauma and How They Heal; and Creator of the Health Journeys guided imagery series.
"Howard Brockman has mined a wealth of cutting edge ideas and methods to pull together a useful and empowering guide for caregivers."
David Feinstein, Ph.D.
Co-Author, The Promise of Energy Psychology
"Many thanks to Howard Brockman for his much needed, compassionate and thorough guidance in "Essential Self-Care of Caregivers and Helpers."  May we slow down long enough to absorb his deep wisdom and practice his excellent healing exercises.  This book is for everyone who loves and works with others!  Thank you Howard for the positive healing influence of your words and suggestions."
Carol Look, LCSW, EFT Master, Author "Attracting Abundance with EFT"
www.AttractingAbundance.com